One thing is clear for on the roadmap for 2023 and beyond, and that is that Artificial Intelligence (AI) and Machine Learning (ML) are becoming more understood and accessible. Our Business Leaders in Tech series study has proven that businesses who adopt Artificial Intelligence as part of their Digital Transformation Strategies will have the competitive edge. 2023 will see a boom of AI systems and ML tools utilised in digital transformation projects.
The rise of ChatGPT and other problem solving tools has really showcased how accessible AI and ML tools are in the digital age, encouraging the world to work smarter, not harder. There are plenty of other quality-of-life tools that can save your workforce time, and should help you intertwine types of artificial intelligence onto your business strategies.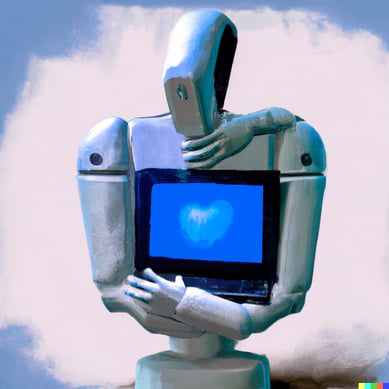 A Painting of an AI Robot Hugging a Computer, created in DALL-E
The Role of AI Technologies in Optimising Your Workforce
Many businesses still believe that AI and computer science is a threat to their workforce; forcing a shift in the status quo that mean a diminishing workforce. While strong AI can certainly automate some jobs, it's actually designed to improve efficiency and effectiveness in the workplace. By giving employees access to AI tools, you are essentially equipping them with superpowers.
"The future isn't AI versus humans – it is AI-augmented humans doing what humans are best at." - DataRobot
AI is helping bolster businesses on a number of front-lines, from customer service to legal processes; its job is to augment existing tasks and processes and improving the overall experience. By empowering your users with smart digital tools, you can create the perfect technology culture which is a key aspect of successful digital transformation.
AI, when used within your business models and team structure can:
Increase customer satisfaction levels
Automate repetitive tasks, freeing up time for more complex projects
Improve employee morale and overall job satisfaction
Reduce human errors and increase accuracy of data-based decisions
Facilitate better decision-making processes through predictive analytics
Leverage customer data to gain insights into customer behaviour
Increase productivity
With the right selection of digital technology, you can leverage robotic process automation to truly enhance your workforce and meet help you meet your organisation's strategic goals faster, with a happier and more productive workforce who will begin to push the upper boundaries of their key performance indicators.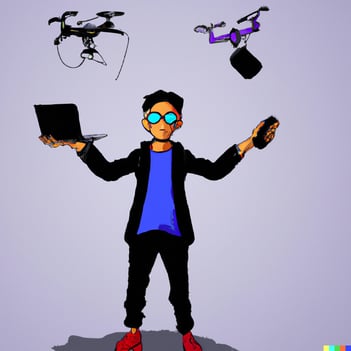 Digital Art of a CEO juggling technology, created in DALL-E
Top 10 AI Apps available in 2023:
We have user tested some AI applications, and have put together a list of 10 digital solutions that could give you an instantaneous advantage when used as part of your digital transformation strategies. We believe that by investing in these tools, you can reap the benefits of greater efficiency and improved customer experience, as a well as a more empowered workforce.

Cost – Free
Let's start with the most famous one of course! ChatGPT is an AI tool which virtually allows you to solve anything. It can help answer queries or problems in seconds as well as help write emails, pitches, documents, blogs etc. Not only does this AI tool mimic a customer support agent but it can also mimic any part of the company.

Cost – Free, Premium options based on wordcount
Jasper is a copywriting AI tool allowing the user to create documents, blogs, emails in a matter of seconds. With their power mode tool, a user can write paragraphs in seconds by just writing down the topic and tone of voice. This tool can help with SEO rankings as well allowing the users document to rank higher in Google when published.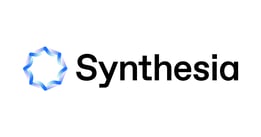 Cost – From £23 a month
Synthesia is not an ordinary video creation tool. It allows you to choose an avatar, then whatever you write it will translate for you over 65 different languages. You can then start building your video presentation around set avatar. Once everything is done you can download it and the end result is an AI Presented Video.

Cost - $36 every 3 months
DoNotPay provides a legal service without the physical prescence of an actual lawyer. With different feature ranging from burner phones to connecting to inmates. DoNotPay claims that they can sort/ provide legal advice surrounding certain topics which need to be answered by lawyers.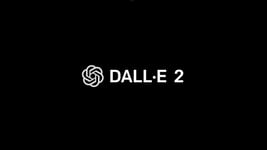 Cost – Free, with premium options based on credits
DALL.E 2 allows the creative person to generate any ideas they want. Want a space cowboy flying a spaceship DALL.E 2 will generate an AI image on what your text presents.

Cost – From $15 per month
Repurpose.io is as simple as it comes. You create any content you want and this AI tool simply repurposes them to any given social media platform.

Cost – Free, with paid for options from $10
Fireflies is a bit like Jasper and Jenni but this is a notetaker insteader. Specifically designed for conversations or meetings Fireflies will allow the user to have his notes in the background of his meetings. This tool can integrate with teams, zoom, google meet etc.

Cost – Free, with premium features from $15 per month.
Murf AI allows you to create a presentation or any sort of text to speech presentation without any use of a real human. With may different tone of voice Murf AI has loads of capacity for different styles of creation.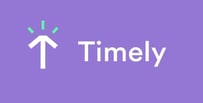 Cost – From £20 per month.
Booking appointment software which allows SMEs to easily make appointments for their services. It allows for online booking and even voice recognition to make sure that the customer gets what he needs without any hassle.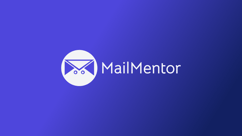 Cost – Free, Premium from $5 a month
MailMentor is yet again another copywriting tool but only specialises in writing emails. This is the perfect tool for any sales person to write the perfect sales pitch via email.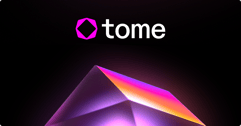 Cost – Free (in Beta stage)
Tome is a storytelling AI tool. Simply write down what you want your topic to be about and Tome will write a 5+ slide PowerPoint with images (images will need to be changed as they are AI generated).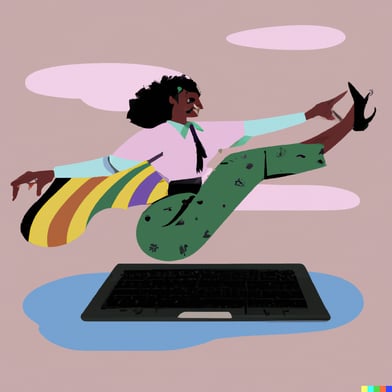 Surrealist painting of a happy and effective employee, created in DALL-E
Access AI easily to elevate your digital transformation process.
Thank you for taking your time to read this blog. We are here to show you that in 2023 AI tools are widely accessible and why they should become part of a company's digital transformation strategies.
By empowering your workforce with some of these easy to implement tools, we hope to show you how easily AI and ML can add value to your workforce.
We hope that this blog has inspired you to take the next step and to explore the potential of AI for your company. Investing in the right tools can bring tremendous value, so why not give these a try?
If you are looking for more tailored advice on Artificial Intelligence, Machine Learning or your Digital Transformation Strategies, then please don't hesitate to reach out for a free consultancy session.